2015, 97 min.
Arthouse Blockbusters Ltd.
Ein Film von Boris Despodov
Mit Claudia Cardinale, Diana Paskalieva, Alex Brendemühl, u.a.
Musik: Florian Erlbeck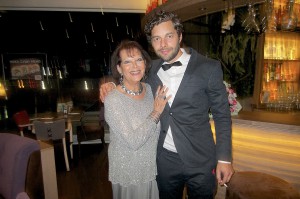 Mila, a bride on the run, stumbles upon a ghost town in the middle of the desert whilst trying tho escape from her murderous husband-to-be. This surreal landscape has served once as a setting for Sergio Leone's spaghetti westerns, so its local inhabitants still dream of being film extras. When Mila gets a job as a housekeeper for a local eccentric lady, she soon discovers that she is actually working for the true Claudia Cardinale herself. Those women become friends and find common strength to face the demons, both past and present. Soon enough their duo is supplemented with a romantic cowboy, vying for the young woman's lonely heart, and an Indian mystic eager to lead them out of the desert. At this moment the boundary between reality and cinema begins to fade. When the villain appears, everything becomes just "like a movie".